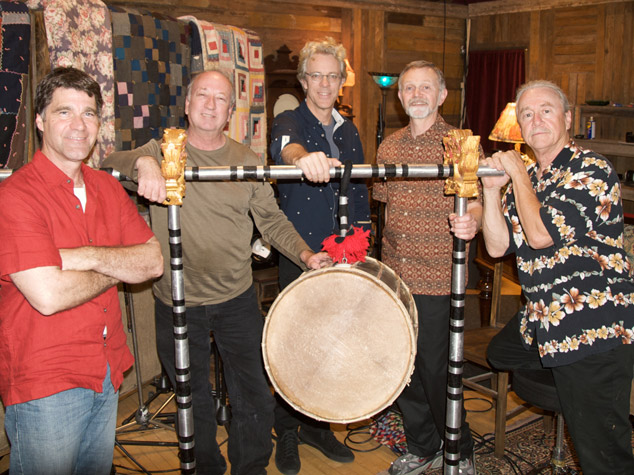 Gamelan D'Drum
Gamelan D'Drum is a 3 movement, 35 minute composition for World Percussion and Orchestra by Stewart Copeland. Near the conclusion of the 2007-08 world tour of The Police (the third highest grossing tour in history), Stewart was introduced to the music of D'Drum by the Dallas Symphony Orchestra in search of a composer for a commissioned work to feature the group with the orchestra. He immediately accepted the invitation and came to Dallas to begin collaboration with the group that is currently ongoing.
The drummer and founder of The Police, 2003 inductee to the Rock and Roll Hall of Fame, and one of the most influential drummers of the past 30 years is also a composer of operas, ballets, chamber music pieces, and some of the film world's most innovative and groundbreaking contemporary scores. His career includes the sale of more than 60 million records worldwide, and numerous awards, including five Grammy awards.
A five member percussion group from Texas featured in an Emmy award winning PBS short film that documents their travels and observations relating to World Percussion. D'Drum is heard on the National Geographic Film, "Lions of Darkness", in addition to the award winning PBS children's show "Wishbone". As in their live performances, their recordings feature music derived from traditional cultures of Bali, Africa, Persia, and other regions blended with the influences of Western Classical and Jazz forms. All of the instruments featured on recordings and in performance are acoustic, and of traditional and contemporary design.
The Dallas Symphony Orchestra under the direction of Maestro Jaap Van Zweden has received lavish praise from the New York Times, BBC Music Magazine, Musical America,, and the Dallas Morning News. The orchestra consistently achieves recognition in the most respected concert halls in the world as one of the leading orchestras in North America.